China: Tiger Leaping Gorge 虎跳峡
Tiger Leaping Gorge is one of the most popular hikes amongst foreigners visiting China, and with good reason. First off, to get there you have to pass through the beautiful reconstructed old town of the village of Lijiang. Once you're on the trail, a pretty painless transfer from Lijiang, it's two days of easy walking in beautiful landscapes with plenty of good food and comfortable places to stay.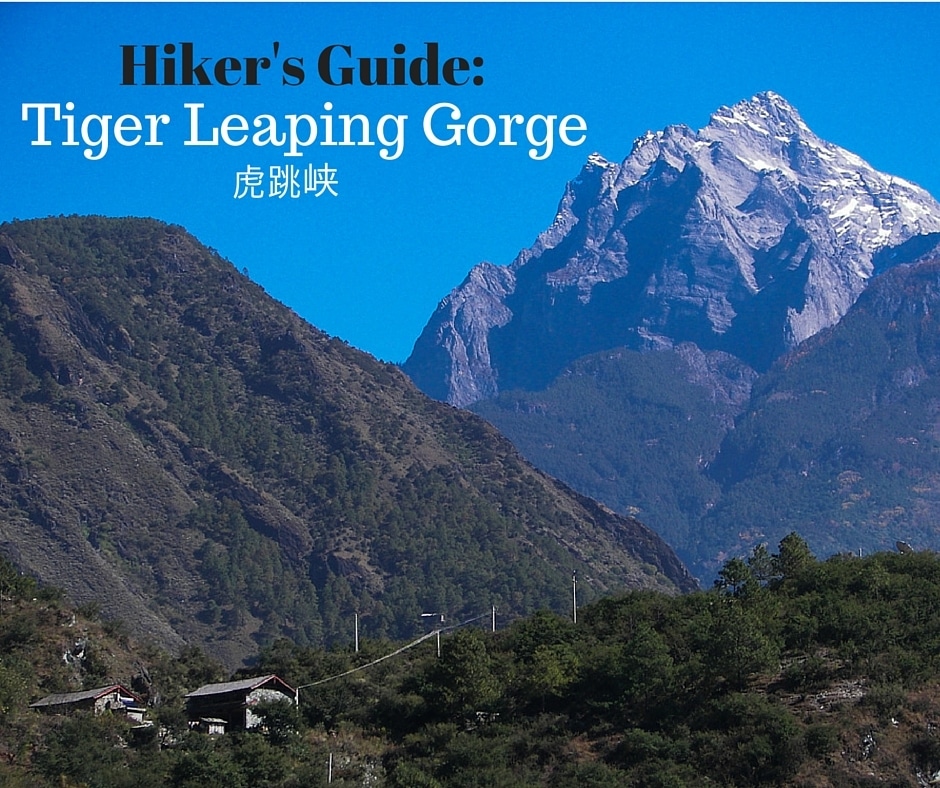 Getting To Tiger Leaping Gorge
To the trailhead you can catch a bus from Lijiang's North Gate Bus Station, leaving for the village of Qiaotou (around 35 RMB). From the bus station in Qiaotou, walk a few minutes towards the village school where you'll see signs/arrows marking the beginning of the hike. There's also a restaurant here where you can grab a quick breakfast/lunch if you don't have time to fuel up before leaving Lijiang. From Qiaotou you'll start the walk, so it's also a good idea to pick up any small snacks you want to have on hand in case you get hungry between guesthouses.
Pay the entrance fee at the ticket booth just up the road from Qiaotou (entrance for Tiger Leaping Gorge is 65 CNY at the time of research, but it's on an upward trend over the past few year so be sure to check in Lijiang before you go) and then you're free to start the walk.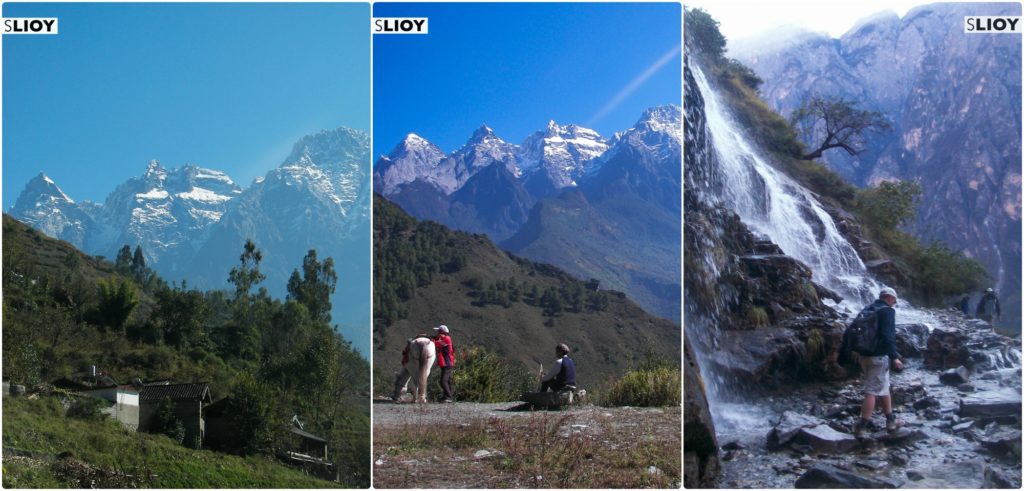 Hiking Tiger Leaping Gorge
From Qiaotou to the far end of the gorge (where you'll find a ferry to the village of Daju and a ride back to Lijiang) is normally between 10 and 15 hours of walking, and most people do it as a two- or three-day walk. There are plenty of places to stay and eat all along the Gorge, so you don't need to carry much more than water and snacks as well as a change of clothes and light jacket to wear once it gets dark and the temperature drops.
For the main hike, the only really strenuous bit is the '28 Bends', a switchback that climbs for a while before leveling out in a leafy forest at the top. If it gets to be too much, there are generally locals around with horses and donkeys for rent. The rest of the way is pretty flat and easy walking, some of it occasionally dotted with touts selling water or demanding 10 yuan for trail maintenance fees while other stretches seem entirely devoid of human touch (a rarity for travelers in China!). It can get muddy during heavy rains, with some small risk of landslide, so while you shouldn't be overly concerned do pay attention to your surroundings as you walk. Especially on those moment when you're walking across the flow of a waterfall, take care not to slip and fall as it is, after all, a fairly steep gorge and a tumble would not be ideal.
Of particular note are the options you have to choose from towards the end of the hike. The biggest side route, near "Tina's Guesthouse", leads down to the point where in legend a Tiger once Leapt across the Gorge in flight from a hunter… this obviously providing the name for the Tiger Leaping Gorge area. From the rock, you can either take the 'Heaven Ladder' or 'Zhang's Trail' straight back to the area of Tina's or continue down the river towards Walnut Grove until the path intersects the main trail once more. This way is beautiful, but perhaps not for those with a fear of heights.
The biggest takeaway is this: there is absolutely no reason for a competent hiker to need a guide for this hike – you'll barely even need the maps that are handed out at the ticket booths.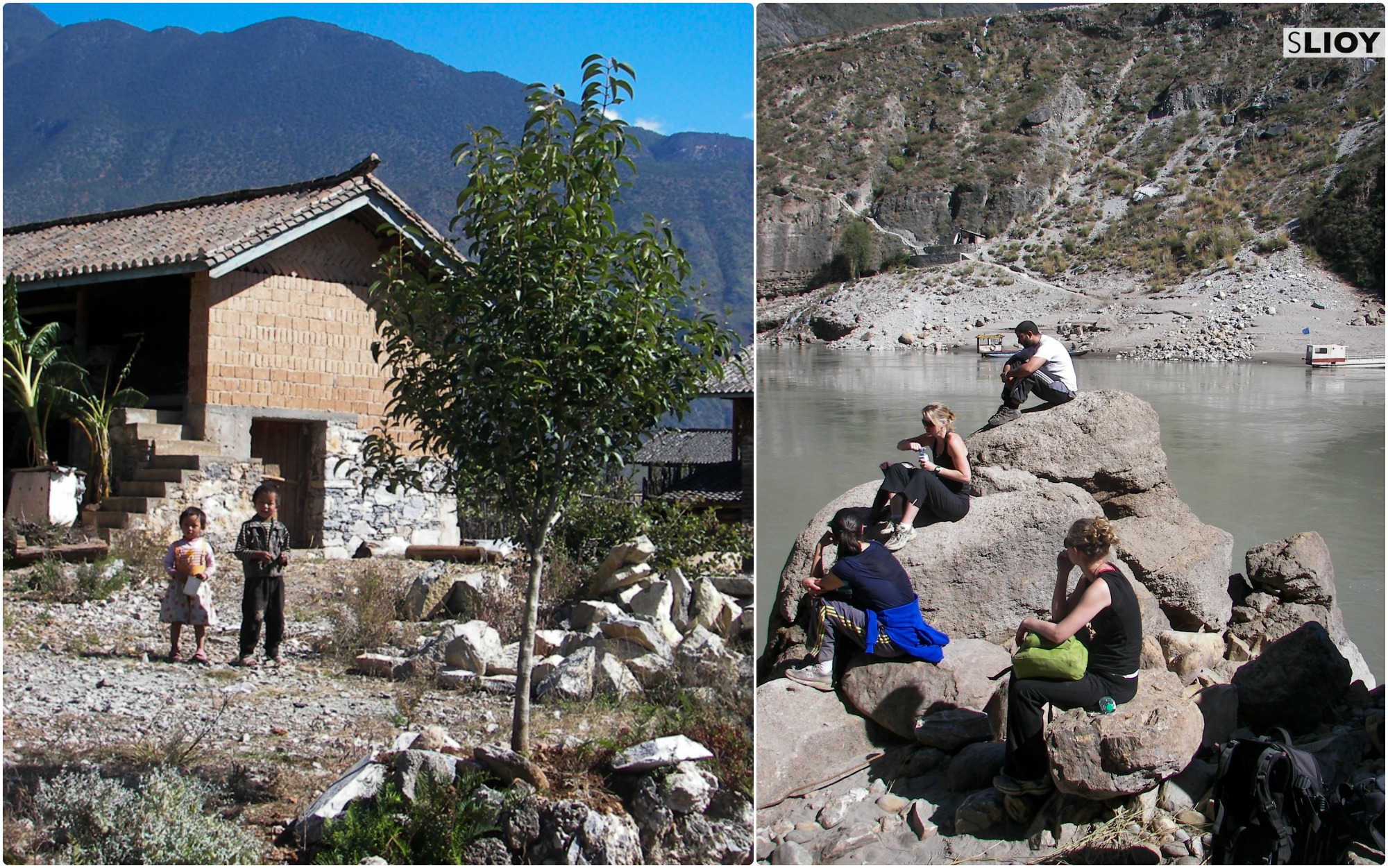 Getting back to Lijiang (or onwards to ShangRi-La)
Once you finish up theTiger Leaping Gorge hike, you'll come to a proper road on the other end of the Gorge once it widens out past Walnut Grove. There is an irregular bus from Sean's Guesthouse in Walnut Grove, or regular service back up Tiger Leaping Gorge from Tina's Guesthouse.
Alternatively, near here is a new ferry that starts service around 10am daily. If you happen to miss that one, an older ferry down the river also runs on demand. You'll have to climb down to the river and yell across if the boat happens to be on the other side of the river when you arrive. Whichever ferry you take, try to find a ride back from Daju to Lijiang immediately. There isn't much in the way of accommodation or entertainment in the village, and if you miss the bus/minivan you'll probably be stuck either waiting a day or hiring a taxi.
Where to Stay
In the Tiger Leaping Gorge itself, Sean's Spring Guesthouse in Walnut Grove is a classic place to stay while Tina's Youth Hostel in the middle of the Gorge is also conveniently located. Back in the town of Lijiang, Mama's Naxi Guesthouse is the longtime Lonely Planet standby but these days it seems to be getting pretty mixed reviews. I would actually suggest checking out the nearby Garden Inn Guesthouse instead, as the staff were incredibly friendly and the property was quite comfortable while still having an 'old town' feel to it that many others just didn't quite capture. Outside of the Lijiang Old Town there are also some higher-end options if you're looking to spoil yourself, most notably the Hilton Garden Inn Lijiang (which is also a steal on Hilton HHonors points).
Good to Know
There are no ATMs or credit card readers available on the Tiger Leaping Gorge hike, so make sure to bring enough cash from Lijiang to see you through the full two days (and a bit extra for emergencies, of course).
It can also get a touch chilly a nights, even moreso than Lijiang, so make sure to pack a light jacket to stay warm in the evenings until bedtime.
Are YOU planning a hiking trip to Tiger Leaping Gorge?
Share it with your friends!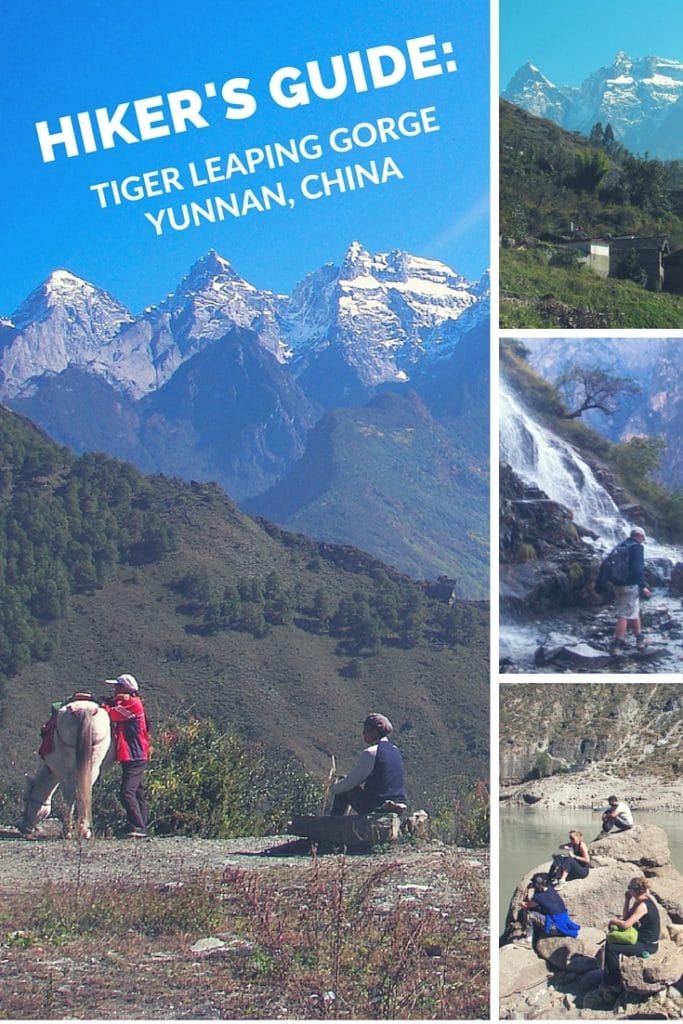 Have you been to Tiger Leaping Gorge? If so, let us know what your experience was like and any other tips you think it would be have been ideal to know before  you set off!
Related Posts